10 Delivery Services in Barbados
As the world shifted its commerce online, Barbados was slow to 'hop on the bandwagon'. However, the COVID-19 pandemic encouraged Barbadians and businesses alike to consider becoming delivery friendly, given the loss of physical contact. Therefore, delivery services that existed before the pandemic are being used regularly, and new delivery options are emerging. If you are looking for delivery services in Barbados you have come to the right place. Let's talk about some of the options available and what they deliver.
If you want to be sure that what you order will arrive, Delivacart is an great option. They deliver offers island wide delivery. These include household and personal care products, electronics and appliances. If you want to place an order your bill must be a minimum of 100BDS. They are open 7 days a week from 9:00AM until 7:00PM. If you would like same-day delivery place your order before 11:00am, if not, your order comes the following day. You also have the option of fast delivery when you pay an additional fee.
This delivery service carries different fees depending on the delivery destination. You pay 10BDS if you are delivering to the parishes of St. Michael, Christ Church or St. James, a $15.00 delivery fee for St. George, St. Thomas and St. Philip and a $20.00 delivery fee for the parishes of St. John, St. Joseph, St. Andrew, St. Peter and St. Lucy.
Head over to their listing on our site to learn more about what they offer. Remember, they are open 7 days a week from 9:00 am to 7:00 pm.
Another grocery delivery option in Barbados is Price Whirl. Head over to their website and create an account. Add items to your cart and checkout. It's pretty simple. They have a base delivery fee of $15 and a one hour delivery guarantee, if you live within 11 miles around the Warrens area. Your delivery price varies depending on distance and how many stores the courier must travel to in order to collect your items.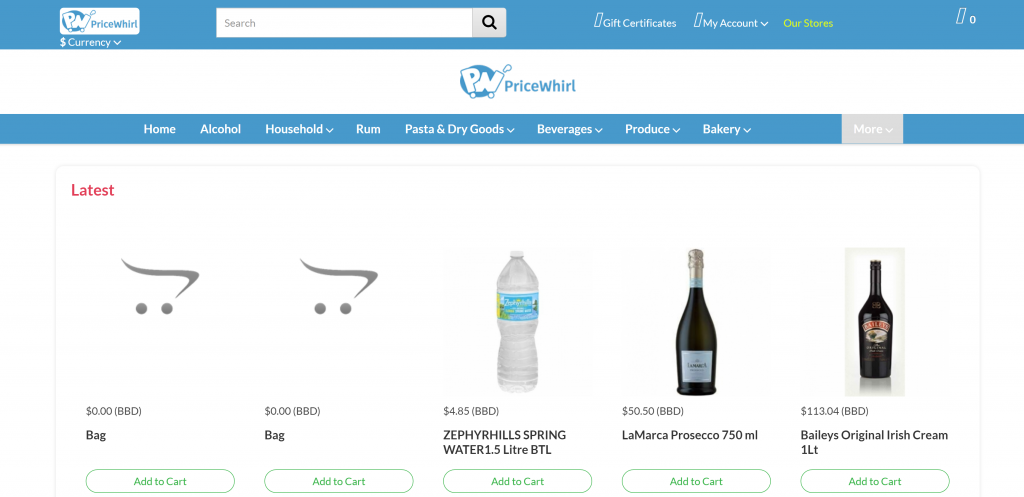 Price Whirl also offers an instructions page, in case you need to review the process. They also have an FAQ section that answers your basic questions. Deliveries are available on Monday to Saturdays form 10:00am to 10:00pm and on Sundays 10:00am -6:00pm.
If you are looking for a job, you can apply to be a personal shoppers/drivers for Price Whirl. You can always contact them via phone at (246) 421-3329 or send a message on their Contact Us page.
Find a restaurant that delivers!
Hungry, but want to stay home?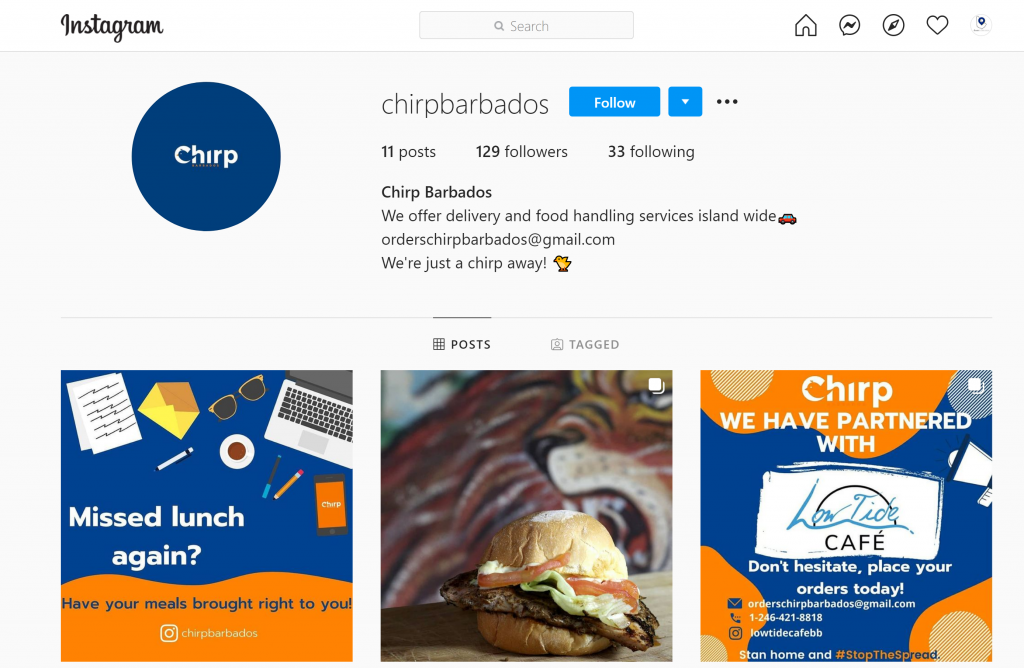 Support smaller delivery services by trying out Chirp Barbados. Place you order via email at orderschirpbarbados@gmail.com. You identify your name, contact number, order, method of payment, location and a special note and Chirp Barbados will respond to confirm your order.
See their Instagram to learn more.
The more support you offer to local small businesses, the faster they grow and the better delivery services in Barbados become!
This courier service, unlike conventional options, delivers food and other parcels around Barbados.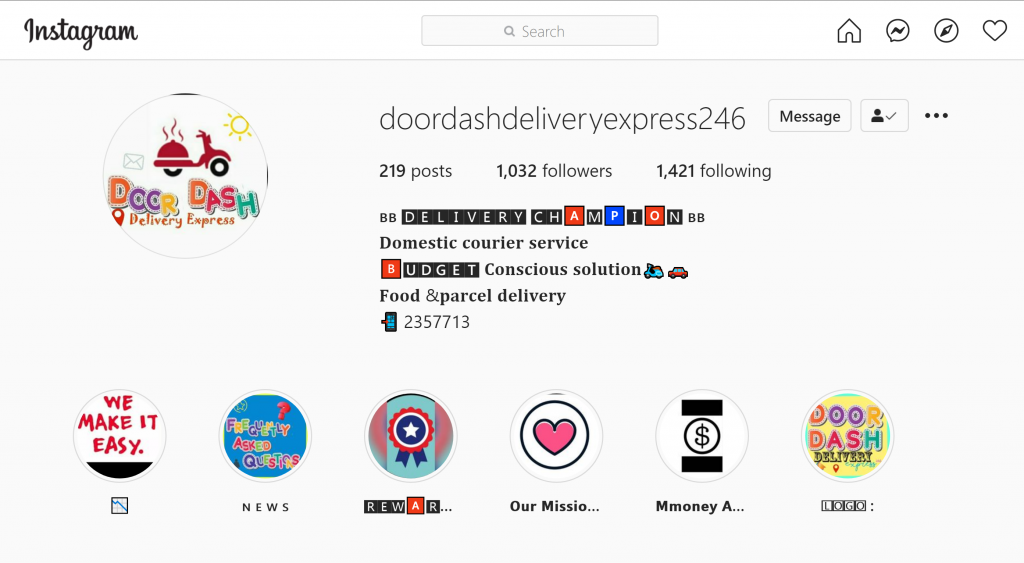 First, text or call 1-246-235-7713 and request a delivery quote. Your quote is based on the pick up site and your location. Next, place your order. Door Dash Express will promptly deliver your order, based on the times discussed. As an independent courier service, the hours of work vary so call to see if they are available. You can pay via cash, Mmoney or Paypal.
If you want to know more about this service visit their Instagram.
Hopscotch is one of the most popular delivery services in Barbados with a fleet of delivery persons and partnerships with many well-known restaurants. Make orders and payments quickly and securely through their website and receive your food in good time.
Deliveries can be made normally or contactless. A contactless delivery means that the driver will place the order in a predetermined location, like a verandah or wall, decided by the customer in their online order. The driver will wait until the customer collects their food and the order will be complete.
If you want to place an order with Hopscotch, you can go to their website and create an account. Search through the available restaurants and menus to select your desired meal. To complete your order, input your location and select a payment option. You can choose between cash on delivery or check out online. Delivery fees are determined by the distance from the restaurant to your drop off location.
They are open from Tuesday through Saturday from 11:00am to 9:00pm and on Sunday 12:00pm to 8:00pm. You can contact them via phone at 1-246-236-9729 and email at hello@hopscotchfetch.com. Search for Hopscotch on Facebook or Instagram to learn more about them.
Wifetch is a delivery service available in Trinidad and Barbados. When you visit their website, you must first select that you are located in Barbados, before you have access to the full site. You can create your account using the 'Create an account' prompt in the top right hand corner of the page.

When you have accessed the site, you can search for items by category and select the brand and product. Add them to your cart and proceed to check out when you have completed your shopping.
Wifetch generates the total at check out, including a $20 delivery fee and a $2.40 service fee. You enter your address, then your delivery date and time. Finally you add your card information and place your order.
You can always contact them via phone at 1-246-264-8994 or you can send a message on their Contact Us page.
Island Direct is a Caribbean wide website and app, that provides mainly food delivery services from farms, supermarkets and restaurants to select locations, usually hotels and resorts. They also have a few retailers in their fleet.
When you enter the website, it automatically asks you which country you are in. After you select Barbados, you have access to all of their local delivery services.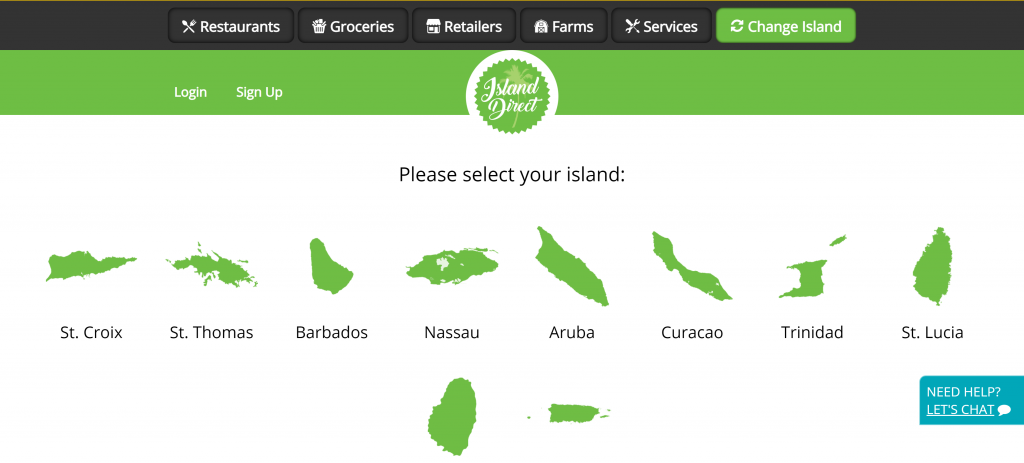 Select your restaurant or store and choose what you would like to order. Make sure that your hotel or villa is listed as a delivery location through their dropdown menu on their check out page.
Input your name, phone number, email address and when you would like to receive your parcels then place your order. Island Direct as per their website takes Visa and Mastercard.
They are open everyday Sunday to Thursday from 10:00AM to 9:00AM and on Friday and Saturday from 10:00AM to 11:00PM.
This online Superstore owned by The Kelly Group, located at Kelly Group Building, #15 Pine Commercial, St Michael. If you want to use their services, visit their website www.kellmart.com. It's a basic website that is very simple to use. Create an account and shop around the website. Add what you want tor your cart and proceed to the check out. Enter your name, address, phone number and where you heard about them If you have alcohol or other age restricted items in your cart, declare your age in the prompt available.
Finally, choose between Standard or Expedited shipping. Please note that delivery prices vary depending on the value of your order and your choice of delivery.
Select your payment option, inputting your card information if you choose to pay online and submit your order.
On Facebook, Kellmart advertises up to a 48-hour wait period before you receive your goods, so don't wait until the fridge is empty to order!
If you want to contact them you can call The Kelly Group at (246)-625-9500 or email orders@kellmart.com.
A1 Supermarkets
Carlton and Emerald City are familiar name to Barbadians when you are discussing groceries. They are under the A1 Supermarkets brand and they now offer delivery services in Barbados!
They are open on Monday to Saturday from 10:00AM – 8:00PM. Make your order by visiting www.aonesupermarkets.com on your computer or by downloading their app. Their order system is fairly easy to use.
First, you create and account and select the items you would like to buy. Second, head to the checkout and input your payment details and the address of the delivery. Remember, A1 Supermarkets only takes online payments for deliveries. Cash on delivery is not available. Once all information is entered, you can easily place you order.
The delivery is $15 island wide. You can get your groceries on the same day if you order before 12:00PM. If your order is after 12:00PM, expect your delivery to occur on the following day.
If you need to contact A1 Supermarkets email them at carlton@aonesupermarkets.com or call them at (246) 417-7675. Get information on each branch from https://aonesupermarkets.com/pages/our-locations and have all your delivery related questions answered at https://aonesupermarkets.com/pages/rewards-faq.
Easy Aisle
Easy Aisle is a part of the PromoTech Group of Companies. It is a delivery service in Barbados only, that covers groceries, electronics, fashion, household items, automotive items and more. They are open from 8:00AM to 4:30PM from Monday to Friday. If you are looking them they are located at #9 Kendal Hill, Christ Church, Barbados.
Shopping with Easy Aisle follows the same pattern as A1 supermarkets. You add your items to cart and head on to the checkout. When you are paying, you enter your address and billing details. Choose whether you will pay with a credit card or cash on delivery. Once you have paid, you delivery will be on it's way.
Please note that Easy Aisle works with many different vendors. This means that delivery fees will add up, depending on how many vendors you buy from in one order. Each vendor a driver has to travel to, adds around $9.00 to bill. So be wary when you shop!
If you would like more information on Easy Aisle, check their website www.easyaisle.com. contact them via email at csa@easyaisle.com. If you prefer the phone, call (246) 256-3438. You can also check their FAQ to answer general questions at https://www.easyaisle.com/faq/, or submit an inquiry at https://www.easyaisle.com/contact-us/.
Order Away!
Now that you know some of the main delivery services in Barbados, you can make an informed decision on which service you would rather use. It's been a long time coming but finally Barbados is seeing a significant technological shift. Shopping is more convenient for Barbadians.
So, which delivery service do you like best and why? Tell us in the comments below! We would love to have a conversation with you.
If you know of any other delivery services in Barbados, you can let us know in the comments so that we can write about them! Feel free to inform us of any updates or give personal reviews about the businesses in this post so that we can better our online community and help our fellow Barbadians!
Places that Deliver in Barbados