Tips to looking your best on a Zoom call
Barbados is making a big technological shift. Meetings that were once face to face are now happening online. We are having those major meetings in the comfort of our own homes! While this has many upsides. We can spend more time with family and we no longer have to rush to Chefette foe a quick lunch. However, we are giving everyone we meet online a window into our homes. Despite this, we still have to look our best and remain professional. So here are some times on how you can look amazing your upcoming Zoom call or video conference.
Lighting
It's all about lighting!
If you have ever wondered how professional photographers and videographers make their footage look so good, lighting is your answer. Lighting is also your saving grace when it comes to looking professional online.
Don't worry, you do not need to buy a lighting kit just for your Zoom call. There are a few things you can do before you need to buy a light.
Sit facing the light, NEVER BACK IT
Facing your light source is the easiest way to make you look so much better on calls. This allows the light to full illuminate your face and background.
Having sunny windows and bright lights behind you will darken your face and foreground. This darkness tends to give viewers a cold or grungy feeling. Instead, you should try to make them feel happy and open when they see you. Facing the light is the best way to do this. In addition, those pesky shadows that deepen wrinkles and darken eye bags, they all vanish!
Illuminate the rest of the room
When people see you online, they are taking in information about you and your background. Unsurprisingly, they use this information to understand you. Make sure the room is well lit, so that viewers won't feel uneasy whenever your image comes on screen.
Use natural light
You can try natural light. Set your desk in front of a window and open the blinds. You can also use a light curtain to help soften the light as it hits your face and eyes. This enough to give your colleagues a good view or your face. If harsh rays of light often come through your window, light curtains would be a permanent solution. This protects your eyes and stops your image from 'blowing out' or being too bright.
Remember, not dark, not bright, but just right.
Using a light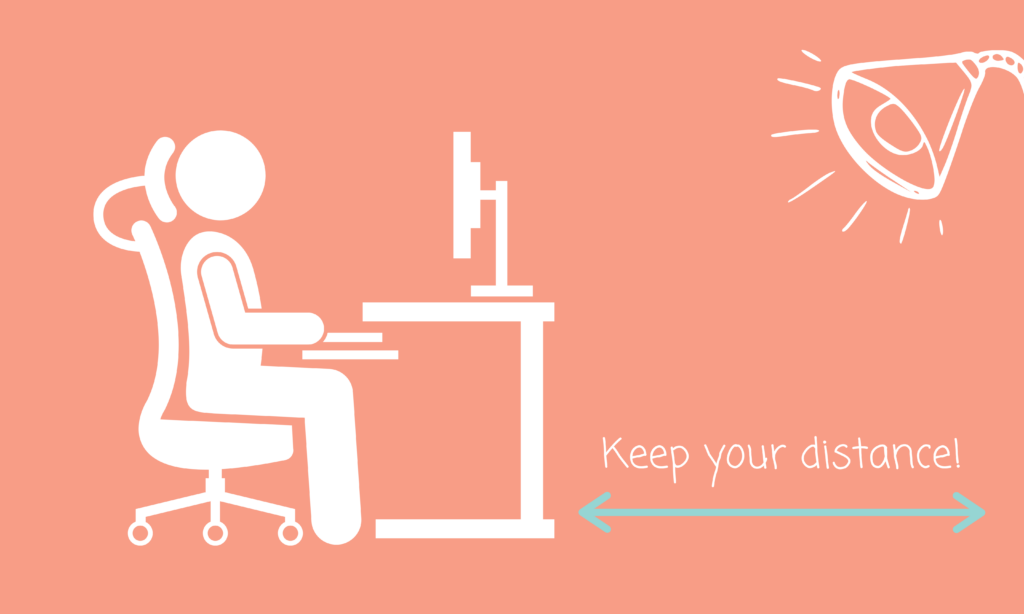 If you cannot use natural light, use a lamp (with a shade) or a lighting kit if you feel bougie. For a lamp, you can set it about 3 feet away from the front of your desk. Depending on the ambient light on the room, you can keep the light dim in the evening and brighten it as it grows darker.

If you plan to use a lighting kit, there are many YouTube videos that can teach you how to set up your key, fill and backlighting for the best set up.
Camera Framing
If you want to look professional then good framing of your face and bust in the camera is essential. Camera framing describes where you are in the camera's shot. It main purpose is to define the subject in your video. Since you are the person on the call, you are the subject.
Firstly, you want to make sure that your entire head and bust are visible. To clarify, the top of your head should be 5-10 cm away from the top of the frame and your lower abdomen should not be visible.
Secondly, be sure to center yourself in the camera. You are the main focus, so make sure your framing emphasizes this.
Lastly, make sure there is adequate room to your left and right. We are human and we certainly do not sit still. With this in mind, make sure that if you shift your body ,you have enough space to still be seen.
Don't forget to check your camera intermittently to make sure that you are well framed.
Your Positioning
As we discussed before, your camera framing is an important part of looking good on your Zoom call. So let's discuss what you can do physically to improve your framing. Trust me it's not a long discussion.
First, move your chair back an arms length away from the camera. This distance ensures that you are fully in frame and that you're not too close to the camera. Then, sit up right, with your spine straight and shoulders relaxed. Now you look ready and attentive.
Finally, make sure you are on eye level with you camera. You don't want your colleagues to have a full visual of the inside of your nostrils! Neither do you want to give them a face full of forehead! If you are not on eye level, there are two easy fixes. Scoot your chair down if it has an adjustable height or place a book under your laptop.
Make sure you comfortable before you settle on your position.
Background
One of the most overlooked parts of looking professional for your Zoom call or video conference is the background. Fortunately, it is a simple fix. Here are 4 background options that always work.
Plain Background (Wall)
The most basic, catch all and background solution is a plain wall. If you have a white wall, this is the best background solution. It's not distracting and it is easy for you to remain the focus of the video. Despite the benefits of a white wall, it doesn't truly matter what colour the wall is or what patterns they carry. Once there are no offensive words or images printed on your walls, you are good to go!
Curtains
These are another great option Zoom call. They are a great static background that fills an open space behind you. In addition, they do not give too much away about your personality.
If you choose it as your background, a blackout curtain is the way to go. Light curtains, blow out your background with too much light and darken your face, unless it's night. Finally, if the curtain is your go-to option, it is best to keep the windows closed or the curtains tied back if it is particularly windy. They can become a distraction, whether you fidget with them or it catches the viewers attention.
Tidy Bookshelf
A tidy bookshelf is the most effective way to control the image you put forward on your Zoom call. The books, family pictures and items on the shelf can be used to tell a story. For example, place a photo of your family at church, Christian-themed books and a cricket ball on your shelf. You begin to tell a story about a Christian family person who likes cricket. If someone has similar interests on the call, whether they are your boss or job interviewer, you have creates talking points to carry a pleasant conversation.
Tidy Room
An empty wall or curtain may not be a possibility for you. That's okay! You can always just have your room be the background. Whether it is the office, living or dining room, maybe even the kitchen, a tidy room can work.
However, there are a few major things you need to control.
Stop friends and family from walking through the room during your meeting. It can make your family and viewers uncomfortable. It is important to realize that your family may not want to be seen and viewers may find their presence intruding if the topic is sensitive.
Keep clutter to a minimum. If the room is untidy, people may come to conclusions about you that are not necessarily true. You could be seen as disorganized, which is not a message you want to send to an employer.
Be sure there is no offensive or extremist materials, items or paraphernalia for viewers to see. You do not want to start up unnecessary tense conversation.
If you often work from home and your child needs to be in the room with you, the best option is to keep them behind the laptop. This means that you can see them easier, while the persons on your call cannot. If your child is behind you, make sure they are as clothed as possible and be wary of the toys they may be using to play. Loud toys can interrupt you as you speak. In addition, it is best to keep your microphone muted unless you are speaking, to eliminate other callers being surprised by your child's playtime.
Many of us love a well decorated room. Indoor plants, paintings, wooden letters and ornaments are great way to spice up your room. Visit Abed's or Do It Best (Barbados) to find some cute decorative pieces. Wool worth is also in inexpensive option. If you would rather live indoor plants, check Nature Care, Muddy Boots, Plant Nation or Walker's Garden Nursery.
These are a great last resort background that always work. They are easily accessed before and even during your Zoom call! They hide your surroundings from viewers in totality! Honestly, it is a sure fire make sure that you look as professional as possible.
You can use the backgrounds provided by Zoom. If none work for you, use this link to find free options or visit Canva and use their free images.
Despite the ease of this option, lighting is still important. The better the light, the easier it is for the software to cover the background. With this in mind, use an image of a library, tidy shelves or and office to complete the professional feel. Scenes of beaches and other casual locations may cause some people to be unable to take you seriously.
Tips
Keep anything visible on camera tidy
Make sure no one is passing in the behind you
Avoid too many visible bright and distracting objects
Do not put too many personal photos behind you unless they are blurred
Headphones

Headphones are always a good addition to your video conferencing arsenal. It helps you concentrate on what's happening in your meeting. Despite their benefits, if they are large, brightly coloured or distracting, it can take away from your meeting. After all, viewers may become more interested in your headphones than you!
For that reason, simple black or white headphones with a neat frame are always best. Even earbuds work, especially if you are trying to keep your hairstyle fresh.
At the same time, if your meeting is casual, the type of headphones you wear won't matter.
Just be careful of the volume. Keep it within a healthy listening range. Your phone or computer may notify you if you pass the healthy barrier.
Want headphones? Check these Bajan stores options out!
Logitech Headset H390 USB – Promotech
KlipX Headset KSH-280 – Promotech
Earbuds with Mic 3.5mm – Promotech
Samsung AKG S10 Style Earbuds w/Mic
Appearance
The very first impression someone has of you is based on how you dress. It applies in person and online. Fortunately, online, you only have to worry about the top half of your outfit. Just don't stand up!
The tips for dressing in person still apply. Depending on the meeting, a polo shirt may suffice or suit and tie could be the better option. Needless to say, crisp and clean, clothes are always best. IN addition, trimmed beards and neat hair always finish the look.
For example, if you choose a white background, don't wear a white shirt. You'll blend into the wall! A blue jacket or a red shirt are good options to lift you from the background. You are now the main focus. This can be applied to your library too. If your shelf is brown, try a suit complimented with a or a teal coloured shirt. Avoid colours that match your background!
Check out this colour wheel to see what colours compliment each other. Pick the color of your background and look at the colour directly opposite. That colour is the best complementary colour.
Looking for Webcam?
Not everyone has a laptop with a working camera, let alone a laptop. Some of us prefer desktops! So here are a few webcam options in Barbados that you can add to your set up.
Play
Promotech
Logan Webcam AP-009 1080P – Promotech
Logan Webcam AP-005 720P – Promotech
Logitech Webcam C925e – Promotech
D E Computers
Online Consultancies
Celltronics
Web Camera – Full HD 1080p – Celltronics Ltd
Video conferencing is the future. It is has become a permanent part of our professional lives. So let's own it, and look amazing when we meet online!
When it's time your next online meeting or Zoom call, remember this checklist.
Lighting
Camera Framing
Position
Background
Clothing
Have a question? Ask us!
If you know any locations in Barbados that sell office furniture and supplies as well as decorative pieces, let us know in the comments!