Curtains in Barbados; A Christmas Shopping Guide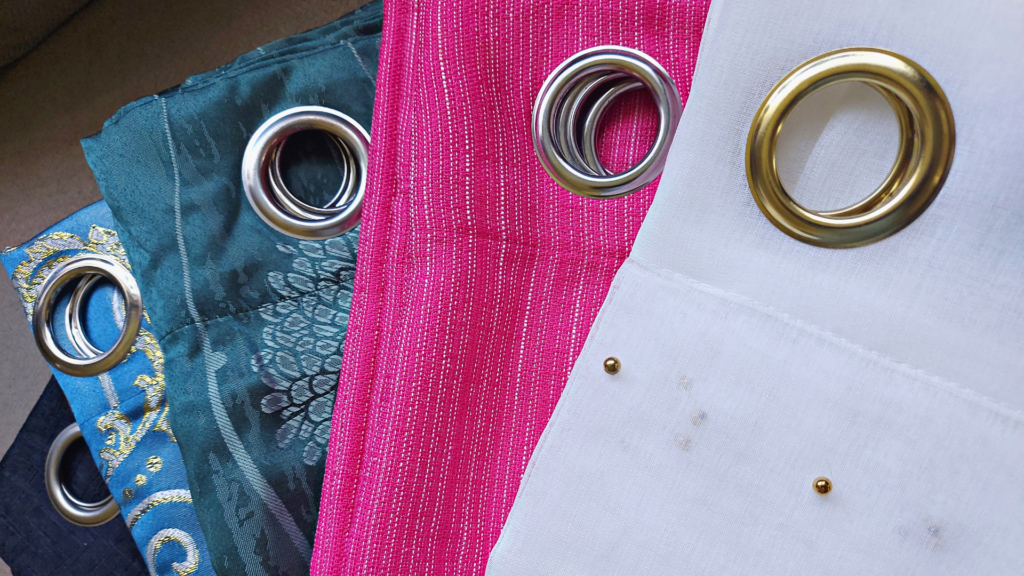 Ok, so let's start by saying I had way too much fun with this. I did not think an article on curtains would have been so fun to write. The number of places I found that sold curtains in Barbados are crazy! I didn't even know of half of these places until this article!
Now to make it even more interesting, I grew up with my grandmother, and if you live in Barbados, you'll understand the hilarity in that alone.
But onto business.
All prices are quoted in Barbados Dollars.
The Curtain Call
Curtains are a sign here in Barbados of a change in season. Easter, New Years Day, and even the brief months of Lent rally a curtain call here in Barbados. You could even wager that if you were not sure of what time of year it is, then someone's curtains are a way to figure out where you stand in the year.
And like I mentioned above, if you grew up with your grandparents, it quite literally counted as a pastime for the household. Almost a right of passage even. It is still more amusing how it slowly became an integrated life skill you didn't even know you needed.
As we near The Festive Season, I can assure you that the mighty Bridgetown is swimming with grandparents and parents out hunting for those perfect curtains to hang up just before Christmas Eve to get that yuletide feeling and fever going stronger and to set the tone for the rest of the year.
Where do I find curtains in Barbados?
Most stores in Bridgetown sell curtains. Sewing World and Woolworth are among the most popular options. However, there is an abundance of shops on Swan Street that sell sheer, blackout, and many other types of curtains. In addition, many home stores around the island, like Popular Home Store or Standard Distributors, sell an array of curtain options.
Curtain Connesesuir
There are many curtains to bring a different air of life into your home. Are you a Grommet kind of person? Or perhaps you love a good Ripple effect. My folks are a blend of Tailored Pleat and Ripple. But before I go any further, let me add some detail here for the kinds of Curtains you can go for:
Grommet: Large, soft ripples and are designed mainly for rods. The part is usually exposed ad the top part is open, allowing them to smoothly run across the rods.
Pinch Pleat: This can be hung with pockets or rings and give a fuller, more refined look to a regular pleat curtain. As they extend down, the face becomes larger.
Goblet Style: This look is similar to a pinched pleat; however, it breathes just a little a the top before the pinch occurs.
Tie Top: Great for giving the house a risque or even bohemian kind of atmosphere. This style is done by securing a bow or knots at the top of the curtain.
Ripple Fold: Its soft and accessible style gives a simple and classic look, mainly used on tracks rather than rods.
Box Pleat: A more angular clean, and wide presentation. Very good for large windows or even glass doors. This one, in particular, requires more precise measurements, so be sure to get your measurements right before you purchase.
Table Top: A more open version to a classic Pleat. The top is made with loops for easy maneuvering for rods. The pleats, however, are a bit narrower in line.
Rod Pocket: For the more sophisticated look. The Rod is entirely hidden in this look. Due to their heaviness, these are a bit more challenging to open and close.
Did you get those tucked into memory? Great! Now let's get the ball rolling with some of the best places you can just about any of the curtains here in Barbados!
Facebook Marketplace
Facebook Marketplace. In a word: Trendy. People all over Barbados will sell just about anything of noted value here. You can describe this Facebook page in a simple sentence, from cellular devices to household appliances. Ask, and ye shall receive.
Curtain shopping here is no different from prices as low as $20.
I must advise, however, that you please confirm the quality of any product that you purchase. Unfortunately, as is so frequent with online shopping and trading, some people have abused this privilege by putting forward damaged goods.
Popular Home Store
Now it goes without saying that with its competitive prices and affordable locations, the well-known Popular would find itself amongst our contenders. Their prices start at $28 for two sheer grommet panels, but the price jumps to $40 for two blackout grommet curtains. If you didn't know that Popular had a fully decked-out home store with better prices than other stores, check out their Kendal Hill branch to get in on the action!
Standard Distributors
Next, we have Standard Distributions. Again, chic is the best way to put things into perspective. I love a lot of the options here as they just look very organized. From Black Friday sales alone, you can be sure to find a finished start to your curtain journey with Standard.
Some prices may vary depending, but the quality cannot be ignored. Some costs can be well above $50, while others can be as low as $15.
ABEDS
And, here we are!
Starting with our more refined looks, like the Box Pleat and Rod Pocket, their prices sit closely to our previous contender, hovering between $28 to $80 per panel.
But there's a twist. ABEDS also sports fabric. You can come in and select materials to have a curtain MADE FROM SCRATCH!!!! Of course, it'll be a bit more pricy but who cares! The idea alone gets the blood pumping!
Sewing World
Sewing World has been a go-to place for curtain shopping here in Barbados from my grandmother's mother's time. It's been a foothold over the years, taking up a history that sits comfortably along the very street it is located. Depending on your curtain selection, the prices can range from $20 to $70. Sewing world stands as a more well-rounded member of our list for this topic. You can call them at 246-436-7902 or visit their store at 4&5 Upper Swan Street, Bridgetown St. Michael.
Wool Worth
Speaking of well-rounded options, with their aim to "Provide Barbados with variety at competitive prices.", Wool Worth has some crazy specials going on even now. I'm just going to say it's easier to see than explain, so be sure to add it to the list of places! For just $20 and going? Yes, please!
Fusionz Mart
Kitchen curtains for just $10.00? Yes, please! We haven't even mentioned full pleats yet! Of course, everyone knows Fusionz here on the island. From young to old, people have seen or shopped in at least one of their branches in search of well…just about anything, to be honest!
If you are hunting around for some of the best-priced curtains in Barbados, Fusionz Mart offers $20 for one panel, while their shower curtains may cost you no more than $15.
MV General Store
Curtain shopping for Christmas? Then Check out MV General Store! Now, here's an excellent place to cash in on some Grommet or Ripple Pleats.
This lovely business is located in Government Hill opposite Flow, previous Lime or Bartel as many Bajans still call it! They host a fairly decent array of curtain options to select from. I'd say you'd find maybe some Box Pleats too. You never really know until you take a look. So add them to this year's hunting list!
Bhana's Bargain Store
This lovely store sells more crafted curtains starting at $34. They may also sell some curtains in pairs for around $65. In addition, you will most likely find a few Ripple Pleats here, so be sure to have a look if that's your aim!
Walkers World
I highly recommend this business for our more savvy readers. Walkers World had delicate and intricate care to even their curtain selection and, like a few on our list, have been a go-to. Especially if you are a more creative person.
Periwinkles
Periwinkles is a home goods and clothing store located at the bottom of Swan Street, opposite KFC. It is a popular spot for Barbadians to shop for their curtains in Bridgetown!
They have a generous collection of Grommet curtains. Their faux silk curtains go for $15.00 per panel! A fun and cost-effective way to enjoy your holiday.
Dwellings Home Barbados
Is that free shipping?! With any purchase of USD 100.00 or more?! Yes! Dwellings sells an array of modern curtains with simple designs. Their panels are 102 inches and come in around $65 per panel. These curtains are an excellent option for those without budget constraints and looking for a chic and simple design.
Moses
If you need it, they can find it for sure! My family has been purchasing curtains from this business since I was five years old, and they always have whatever mum would ask for.
S.Y. Adam & Son
Don't worry, we didn't forget our old friend at all. With prices as low as $34, you can be sure that ol' Adam and Son will have a surge of curtain hunters soon. With their multiple branches and competitive prices, you are guaranteed to find your look!
Blessing Boutique
Blessings Boutique is one of the many stores on Swan Street that offers an array of curtains in Barbados. The Christmas curtain collection may be worth a peek, with each panel starting at $25.
Kazi's
Kazi's is also located on Swan Street, along with many other options mentioned. Again, their prices are among the lowest on our list, with two panels starting at just $35 and climbing to $45 for two panels.
Sockman Shop
For someone new to Barbados or who doesn't traverse Bridgetown too often, when you hear "Sockman Shop," you think of the famous "Sockman" and generally consider socks to be what is sold. However, Sockman Shop sells curtains too! At $15 for one panel of faux silk or $25 for one panel of blackout curtains.
Designer Decor Inc.
I know this is mainly about where you can find curtains in Barbados for Christmas, but I had to! You can just look and see for yourself how excellent the interior options are here! I mean, why settle for just Tangerine Box Pleats when the whole room could be tangerine! I say go for it!
The fun part about this entire article is that I haven't even scratched the surface of what stores can offer here, and I have listed above at least 15 stores! Whew!
Just for the fun of it, I'll add another few more stores you can check out! You can also try:
House of Deals
Ashely Furniture Limited
Living Bliss
Manjra and Sons
Massy Home Stores
Bridgetown Duty-Free
And there's still more!
I wish I could have dedicated a whole month to this out of nothing but curiosity. For some, shopping for Christmas curtains in Barbados is an extreme sport, and year after year, many new homeowners begin the tradition of changing curtains each Christmas.
Imagine what will happen when I start to write on furniture! Relish the thought! So keep your eyes peeled! You just might see an article!
I hope I made curtain shopping in Barbados easy and fun for you all this year!
Happy Holidays from Locate Barbados!