Chinese Cuisine in Barbados: A Culinary Adventure in Chinese Restaurants
Discover the vibrant flavors of Chinese cuisine in Barbados, where the fusion of Bajan and Chinese cultures creates a delightful culinary experience. With a sizable Chinese population on the island, Chinese restaurants have become an integral part of the dining scene. From traditional dishes like dumplings and mooncakes to popular favorites such as chicken chow mein and sweet and sour pork, let's explore the rich tapestry of Chinese food in Barbados.
Guang Dong
Unveiling Traditional Chinese Delights Experience the flavors of China at Guang Dong, a renowned Chinese restaurant located in Bridgetown. Delve into the history and artistry behind tantalizing dishes like dumplings, black bean sauce chicken, mooncakes, chicken chow mein, and garlic sauce shrimp. Each bite tells a story of Chinese culinary traditions and delights the senses.
Dumplings
Dumplings can be made using different types of meat, like chicken, lamb and beef, and various vegetables. The meat and vegetables are minced, combined, stuffed in the dough, and then cooked. The result is a flavourful dumpling with a soft, tender dough exterior filled with hot, juicy meat and vegetable stuffing.
Black Bean Sauce Chicken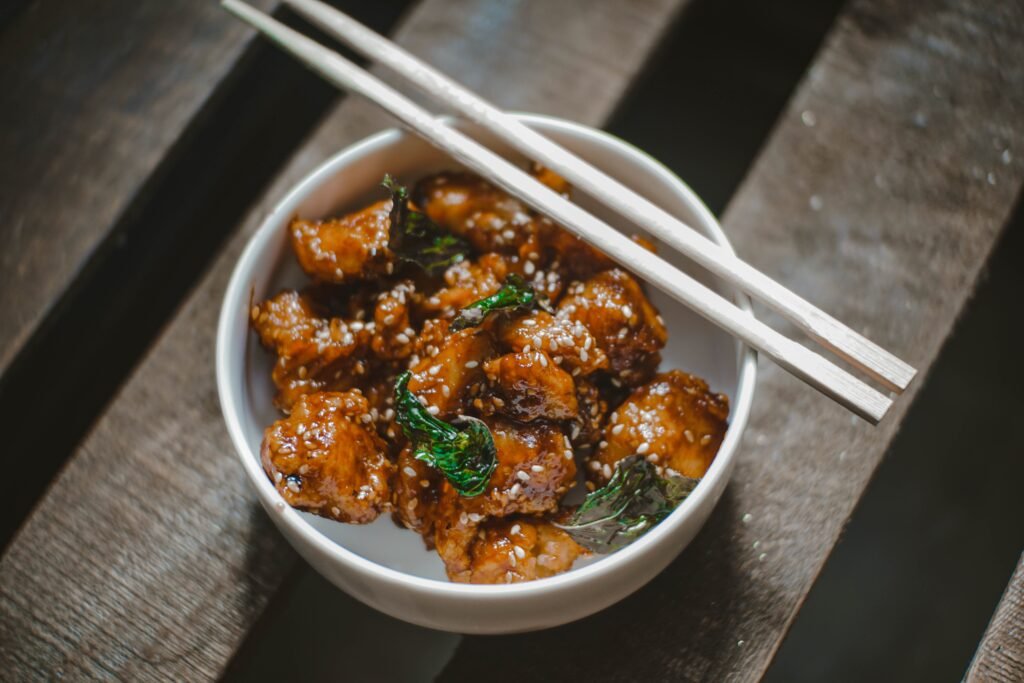 Chinese black bean sauce is made using fermented black soybeans combined with various intense flavours like garlic, bell peppers, scallions, gingers, sugar, salt and chili to subdue the pungent flavour of the beans. The sauce is then combined with seared chicken thigh pieces to create the spicy, sweet, sharp and savoury flavour profile of black bean sauce chicken.
Mooncakes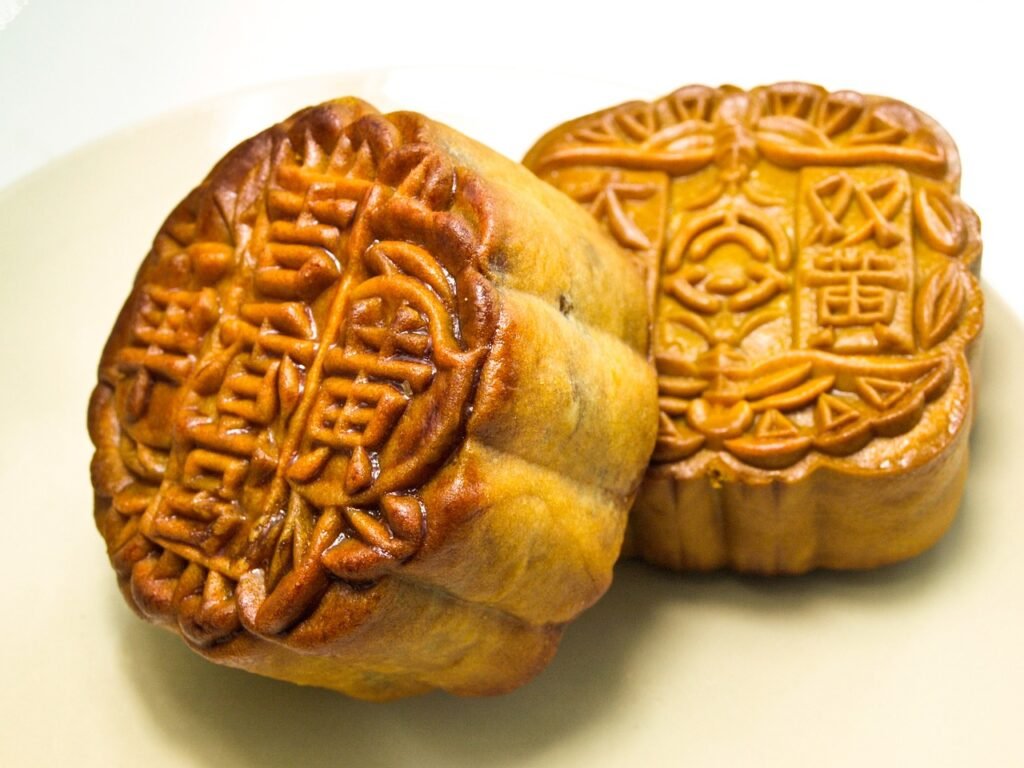 Mooncakes are made using a simple dough consisting of only golden syrup, lye water, flour, and vegetable oil. What makes mooncakes unique are the fillings inside them.
There are a wide variety of mooncake fillings, like minced pork, custard, red bean paste, yam and fruit fillings. These baked Chinese desserts, shaped in unique patterns, can be sweet or savoury depending on the filling.
Chicken Chow Mein
Chicken Chow Mein is made using simple ingredients that are stir-fried and made into a sweet and salty sauce that coats juicy cuts of chicken, firm chow mein noodles, and an assortment of chopped stir-fried veggies.
Usually chicken breasts or thighs are used in this recipe. The sauce consists of soy sauce, oyster sauce, sugar sesame oil, cornstarch, and sometimes a bit of Shaoxing or Chinese rice wine, creating the authentic taste of chow mein stir fry.
Garlic Sauce Shrimp
The main component in this dish isn't the shrimp but the sauce. The garlic sauce is slightly sweet and salty, with a sour and spicy hot taste from the red peppers.
The sauce is made of the staple Shaoxing (Chinese rice wine), light and dark soy sauce, cooking oil, sugar, garlic, chili sauce, rice vinegar, cornstarch, and sesame oil. The sauce is combined and drizzled over freshly stir-fried pieces of shrimp and veggies.
Wife Cake
The wife cake, also called the sweetheart cake or marriage pie, is not a cake but more of a baked pastry with a thin, flaky textured crust.
It is typically made using a melon paste or candy combined with Chinese five spice sprinkled with sesame seeds. Still, other fillings can be used, like coconut stuffing. Wife cakes are sweet and chewy, and refreshing to eat.
Dragon House: Exquisite Chinese Creations
Dragon House, nestled in Lanterns Mall, offers a diverse array of Chinese delicacies. Indulge in sweet and sour tofu, kung pao chicken, beef chop suey, mixed lo mein, sweet and sour pork balls, and comforting wonton soup. Immerse yourself in the flavors of China while savoring the warm ambiance of this inviting restaurant.
Sweet and Sour Tofu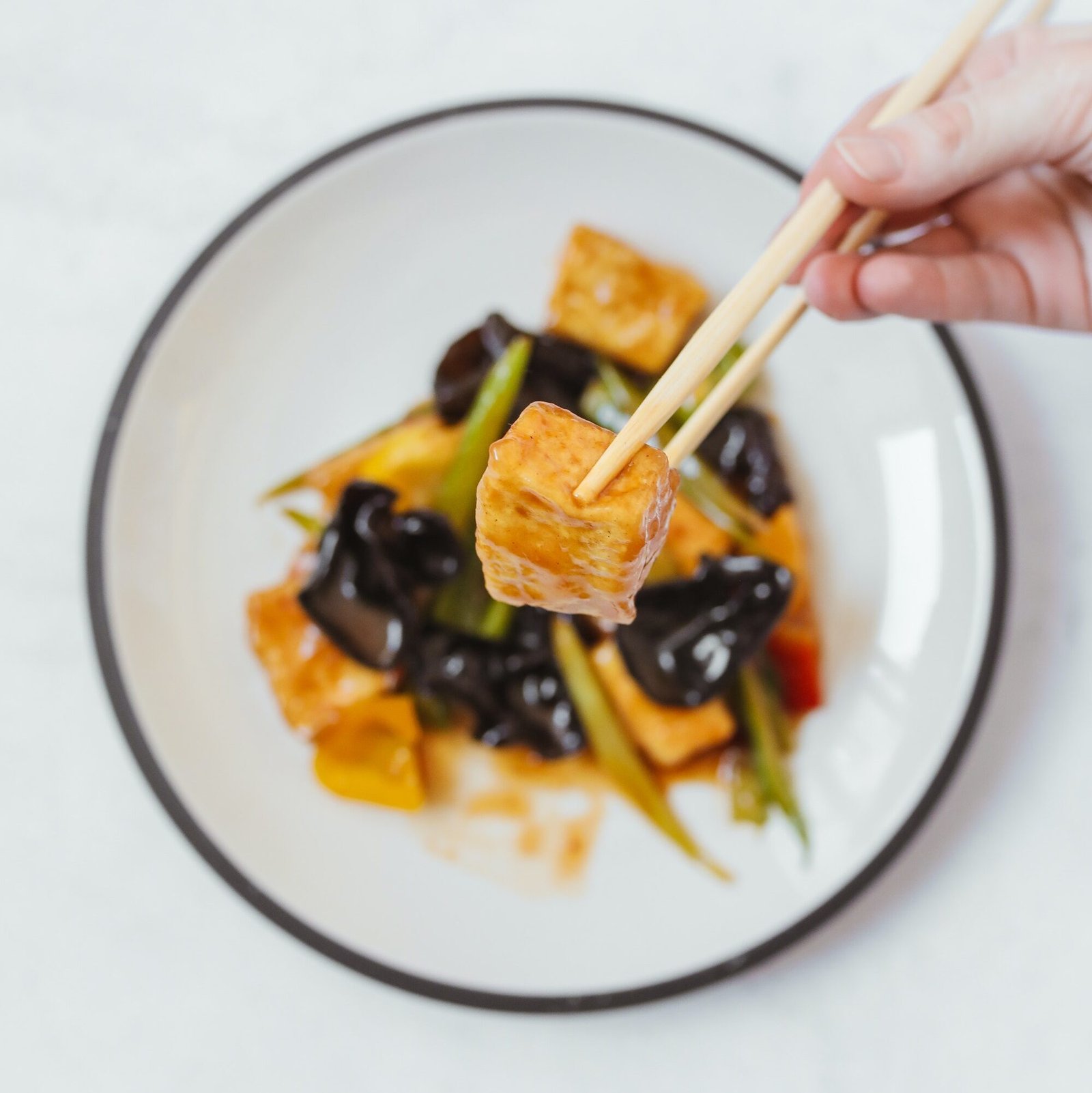 Sweet and sour tofu is made using crispy, deep-fried tofu pieces coated in a lovely, tart and sticky sweet and sour sauce. The sauce is made mainly of sugar for the sweetness and soy sauce, pineapple, and rice vinegar for the savoury, acidic flavour.
Crunchy veggies, like broccoli and bell peppers, are fried and coated in the sauce along with the tofu.
Kung Pao Chicken
Kung Pao Chicken is another traditional Chinese stir fry dish. It is made using chicken breast. Most of the flavour comes from the sauce, made using Chinese black vinegar, dried chili peppers, soy sauce, sesame oil, sugar, white vinegar, garlic, cornstarch chestnuts, and peanuts.
Kung Pao Chicken is slightly sweet with a mild sour taste with tons of spice and heat with a nutty aftertaste.
Beef Chop Suey
Beef chop suey is a stir fry dish where a little bit of everything is combined in a wok or saucepan on high heat with typical Asian flavours from ginger bean sprouts, soy sauce, sesame oil and oyster sauce.
Beef chop suey is made using beef steak, sometimes a small amount of leftover chow mein noodles, and veggies like Chinese cabbage, broccoli, and carrots. This dish is quick and easy but very flavourful.
Mixed Lo Mein
Lo Mein can be made with any combination of meats, like beef and shrimp or chicken or pork or even chicken, beef, pork, and shrimp. The meats are used to elevate the overall flavour profile and texture of the dish. Lo mein, in combination with the sauce, is light, sweet, and savoury.
The sauce is made using three to four ingredients, light and dark soy sauce, brown sugar, and, optionally, a stock. The sauce is then boiled and poured onto the noodles, meat, and veggies in a hot pan.
Sweet and Sour Pork Balls
As the name states, the meat used in this dish is pork. The pork is cut into sizable cubes, and then salt, white pepper, and soy sauce are added, then the meat is coated in flour and dipped in a simple self rising flour, water and salt batter.
The counted meat is added to hot oil until the batter turns crispy and light golden brown. The sweet and sour sauce is then made of ketchup, sugar, cornflour, pineapple juice, water, and vinegar. The sauce is where most intense flavors are packed to compliment the simple flavour profile of the pork ball.
Wonton Soup
Wonton soup is a hot, comforting, savoury, yet simple soup that serves as a delicious, light appetizer. Wontons can be made using any meat filling, like chicken or pork, which are combined with green onion, soy sauce, ginger, and sesame oil. The wantons are then boiled. The broth is made using chicken broth with garlic, Shaoxing (Chinese rice wine), ginger, and garlic.
New Century
New Century: A Gastronomic Journey Near Top Rock Roundabout Embark on a culinary adventure at New Century, a restaurant that delights diners with its delicious offerings. Try the signature Peking crispy duck, crispy prawn crackers, zesty lemon shrimp, delectable seafood soup, and mouthwatering spicy crispy beef. Discover the perfect harmony of textures and flavors that make Chinese cuisine truly unforgettable.
Peking Crispy Duck
Peking crispy duck is typically made using a whole duck but can also be made using half of a duck. This dish is characterized by its deep red-brown, crispy thin skin. Peking Crispy duck is tender, savoury, and slightly sweet.
Fine salt is rubbed over the duck, which sits for about an hour. Then boiling water is poured over the duck to tighten its skin and give it a smooth and shiny appearance. Then the duck is coated in maltose syrup, which is sticky, shiny, and mildly sweet. The duck is then roasted with garlic, bay leaf, cinnamon, apples, and scallions.
Prawn Crackers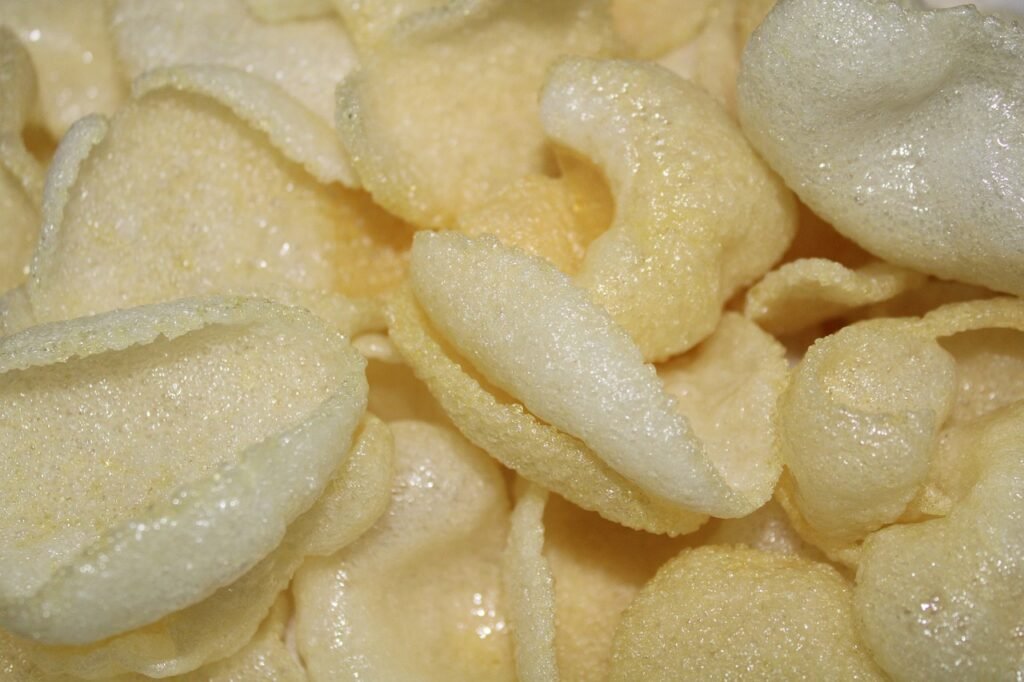 Prawn crackers are an excellent, crispy snack with a light taste of prawns. It is a perfect light appetizer for upcoming meals. Pre-made crackers can be store-bought and then deep-fried.
Traditionally made prawn crackers are made when prawns are blended with water to create a smooth paste, which is then added to tapioca flour, salt, white pepper, sugar, and oil and mixed to form a stiff dough. The dough is made into logs, cooked through, then frozen, then sliced thinly and sun-dried.
Lemon Shrimp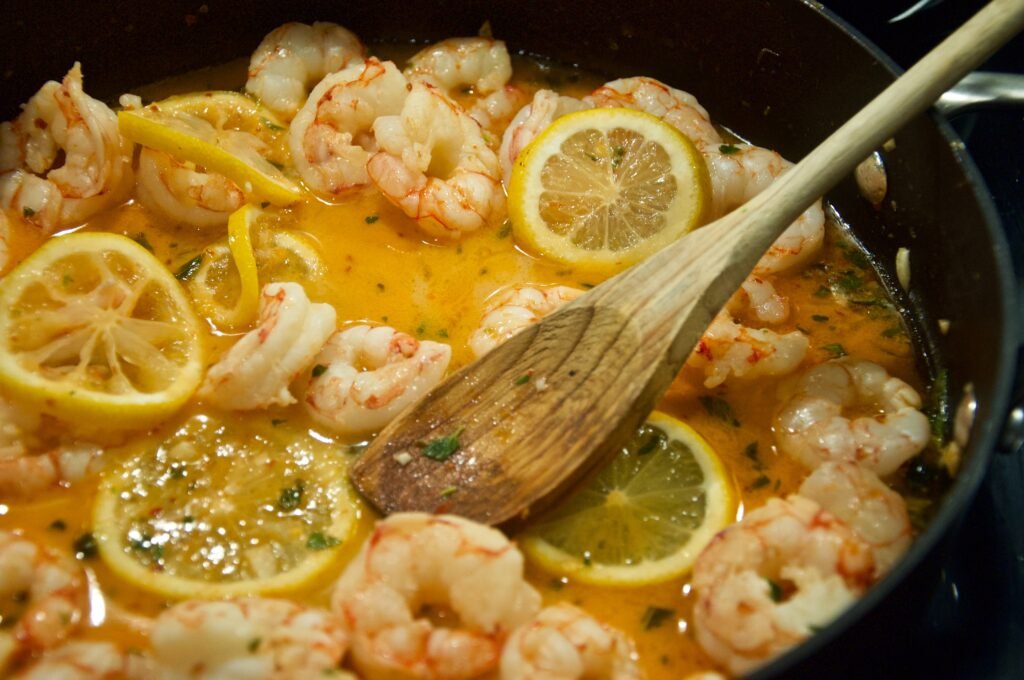 Lemon shrimp is a flavourful way to prepare shrimp. The shrimp is filled with citrus flavours balanced out with the sweetness of honey and flavourful spices. It combines hoisin sauce, honey, salt and pepper, lemon juice and zest, and shrimp. After the shrimp is marinated, it is stir-fried with oil and garlic and served.
Seafood Soup
There are a wide variety of ingredients and ways to make seafood food. Seafood soups are made using a combination of seafood meats, like shrimp, crabs, and fish. The broth made in seafood soup tastes strongly like the meats used, and the intense seafood flavours are balanced by the vegetables, spices, and herbs added to the soup.
Spicy Crispy Beef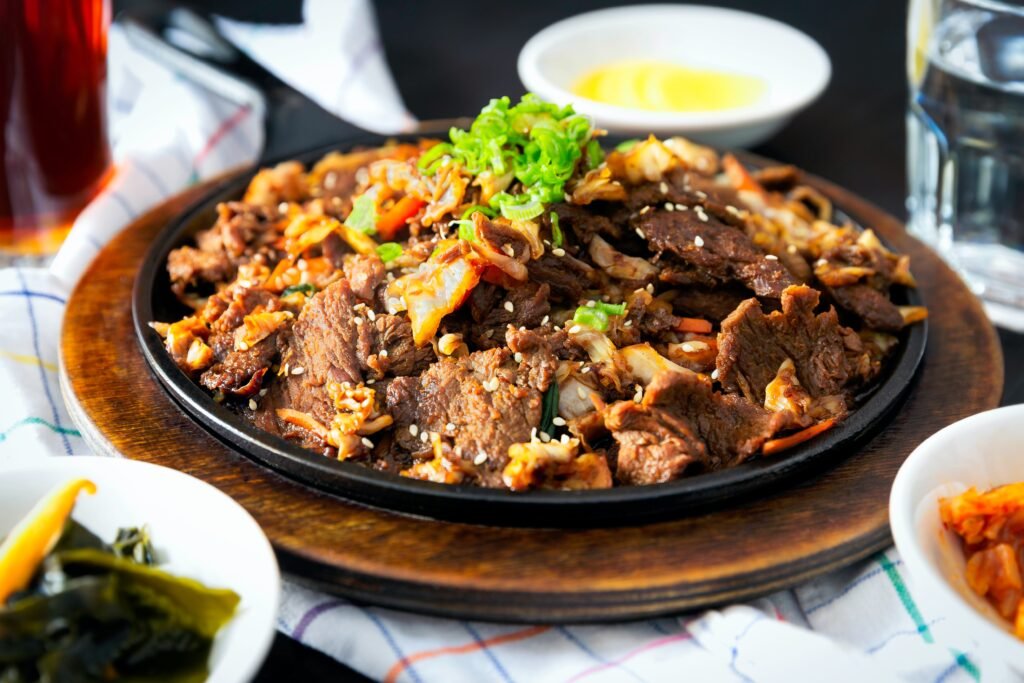 Spicy crispy beef is a delicious meal. It packs a ton of flavour from the juicy meat and flaming hot chilies, making it a filling and satisfying meal.
Crispy beef is made by adding beef steak strips, egg, cornflour, salt, and pepper in a bowl and mixing. Then the meat is deep-fried until crispy. Onion, chili, garlic, ginger, soy sauce, white vinegar, tomato puree and ketchup, and sweet chili sauce makes the flavourful sauce that coats the crispy beef.
Spring Rolls
Spring rolls are a staple Chinese dish. They are usually vegetarian-friendly, light, and refreshing with a delicious flavour. They are generally served as appetizers or side dishes to the main course.
First, the vegetables, carrots, cabbage, spring onions, and green onions are sauteed in a hot wok or pan. Then soy sauce, vinegar, salt, and pepper are added when the veggies are half-cooked. The veggies are then added to the spring roll wrappers, rolled into a log shape, and deep-fried until the wrapper is crispy.
Chinese Restaurants in Barbados: A Price Comparison
To help you plan your dining experiences, we provide a price comparison of popular dishes offered at Dragon House, Guang Dong, and New Century. From vegetable fried rice to Cantonese sweet and sour chicken, explore the variations in prices and portion sizes at these establishments.
Dragon House
Guang Dong
New Century
Vegetable Fried Rice
$14
S – $11 L – $20
S -$12 L – $20
Chicken Chow Mein
$18
S – $14 L – $24
S -$16 L – $25
Chicken Fried Rice
$18
S -$14 L – $26
S -$16 L – $25
Egg Fried Rice
$15
S -$12 L – $22
S -$15 L – $22
Cantonese Sweet and Sour Chicken
$28
S -$21 L – $34
S -$22 L – $36
Beef with Broccoli
$26
S -$20 L – $34
S -$22 L – $36
Plain White Rice
$5
S -$9 L – $18
S -$8 L – $12
Chicken Lo Mein
$18
S -$14 L – $26
S -$16 L – $25
Fried Dumplings
4 chicken for $14
4 shrimp for $18
4 for $18
4 pork for $18
Vegetable Chow Mein
$14
S -$11 L – $20
S -$12 L – $20
*All prices are quoted in Barbadian Dollars.
The Chinese restaurants in Barbados offer a gateway to a world of culinary delights. With their unique dishes, intriguing flavors, and inviting atmospheres, these establishments bring the essence of China to the Caribbean. Whether you're a local resident or a visitor to the island, indulge in the diverse offerings of Chinese cuisine and embark on a memorable gastronomic journey in Barbados